Many people come to Barcelona not only for its cultural offer and the beach but also because it is a great city to go out. Most of the rather commercial clubs are on the beach around Vila Olímpica.
However, personally, we have to admit that we are not big fans of going out there. Most probably it is because we often get annoyed by the waste and bad smell the next morning when we simply want to have a nice bath in the sea or enjoy a good morning run …
Below is a list of our top 7 places to dance the night away ...
Wet Deck Summer Series - W Hotel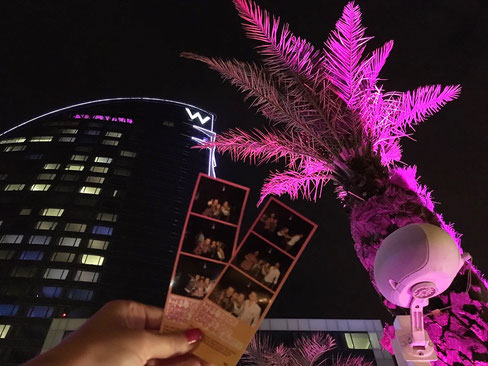 Neighborhood: Barceloneta
Music: House & Electro, depending on the DJ
Plaça Rosa dels Vents, 1; Tel.: +34 932 95 28 00; Dates: every Sunday from June to September: 8pm - 0:00; Website
Every Sunday from June to September famous Hotel W opens its terrace for some amazing pool parties with great DJs. There is no better way to end the weekend with a nice glass of wine or cocktails, good music and dancing with views on the ocean. Put on your nicest summer dress/shirt and do not forget to sign up on the guest list to enter for free.
The closing party is this year already on the 20th of August with the fantastic duo 'The Ground' from Berlin.
Gràcia Latina
Neighborhood: Gràcia
Music: Salsa
Carrer de l'Or, 19; Tel.: +34 669 26 81 67; Opening hours: Sun. to Thu.: 8.30pm - 2:30am, Fri. & Sat.: 8:30pm - 3am; Facebook
As you might imagine from the name, this is a latino place! Open every night, they offer salsa and flamenco classes during the week and Latin live music on weekends. Their mojitos and caipirinhas are their best. If you want to feel some Latin vibes and move your body, this is your place!
El Cangrejo Raval
Neighborhood: Raval
Music: mainly 80s & 90s & spanish hits
Carrer de Montserrat, 9; Tel.: +34 933 01 29 78; Opening hours: Thu.: 9:30am - 2:30am, Fri. & Sat., 9:30pm - 3am, closed Sun. to Wed.
You want to have a drink and dance at the same time without waiting for the clubs to open? Cangrejo is your place! You find both heteros and gays here. The best thing: everyone just wants to have a good time!
Gatsby Barcelona
Neighborhood: Eixample
Music: Commercial
*Eixample*  Carrer de Tuset, 19; Tel.:+34 937 00 44 53; Opening hours: Wed. to Sat.: 8:30pm - 3am, closed Sun. to Tue.; Website
Located in Carrer Tuset, the shortest and most active street regarding nightlife in the neighborhood of Eixample, Gatsby is a popular place to go out among locals. Gatsby starts as a restaurant with cabaret show but is later converted in a bar with club atmosphere where people are dancing. The decoration and whole atmosphere reminds of the American 1920s and mainly attracts the middle-upper class of Barcelona. Entrance is free and you get free entrance tickets for Sutton, the club next to it.
Bling Bling
Neighborhood: Eixample
Music: Commercial, House, Electro
*Eixample* Carrer de Tuset, 8; Tel.: +34 934 14 63 62; Opening hours: Thu.: 0:45am - 5am, Fri. & Sat.: 0:45am - 5:30am, closed Sun. to Wed. Website
Although the name sounds a bit cheesy, this is one of the most exclusive clubs in Barcelona While tourists mostly prefer the Olympic port for clubbing, Carrer Tuset with Sutton, Gatsby and Bling Bling is one of the favorite areas among locals. Entrance fee is 20€ with one drink included. Sign up on the guestlist to get in for free (for entrance before 2am!).
Sala Apolo
Neighborhood: Poble Sec/Raval
Music: Depending on DJ
Carrer Nou de la Rambla, 113; Tel.: +34 934 41 40 01; Opening hours: depending on events. Website
Sala Apolo is probably one of the most popular places to go out in Barcelona. We love it because of its unique decoration: a theatre converted into a nightclub. Sala Apolo's Nasty Monday parties are most famous and the club gets extremely crowded during these nights.
VenTú Parties
Location: Changing
Music: Depending on DJ
Their motto: "No todo lo bueno pasa de noche."/"Not all the good things happen at night." This is a very special type of fiestas which take place on the first Sunday of each month - not at night but during the day! Parties usually start around midday and last until 10pm. Music varies from commercial and rock to house and electro. Locations are changing but Sala Apolo, Bestial or Razzmatazz are recurring spots. Check out their on their website!
Barcelona by locals - Insider Tip
From October 2017 onwards, one of our best friends and also local expert from the guide will open his very own night club.
Watch out for 'Wolf'!