Our 7 hot tips for hot summer days in Barcelona
It is September, but temperature in Barcelona is still up … Many people think that city trips are not made for hot summer days. However, Barcelona is different! One of the secrets is to get up early, rest for a typical, Spanish siesta (between 2pm and 4pm) and then enjoy the evening hours and cooler temperatures from the late afternoon/early evening onwards.
Let us tell you how we survive those hot summer days:
1) Morning run along the beach of Barceloneta
The best thing is to start the day is to go for a morning run. Obviously, there is no better place for this than the beach. Start your morning run at Barceloneta (you can take the metro and start from the metro station), go direction Vila Olímpica as far as you want and then go back the same way! The key is to start early to avoid the heat, but not too early to avoid encountering too many drunken people who are walking back from their night out (coming from the clubs around Vila Olímpica). Magdalena's favorite time to go for a run is from 7am to 8am.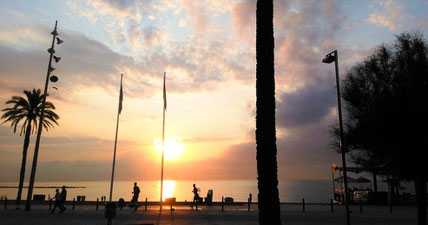 2) Visit Parc Güell before it actually opens
Parc Güell is one of Barcelona's main sites and usually full of people. So, how can you visit the parc without paying entrance and without any tourist crowds on your side - and this in high season? Here is the trick: visit the parc before 8am. This is when the parc officially opens. You have to be an early bird again, but trust us, it is worth it!
3) Picnic at Montjuïc - the mountain of Barcelona
Although we all tend to go to the beach when it is hot, we should better escape the sun and look for some shady places. And in the gardens of the Montjuic mountain you have plenty of beautiful space with different kinds of plants, trees and flowers - perfect for a nice picnic! So bring your sandwich, some olives and a bottle of wine, beer and/or water and make yourself comfortable! One of our favorite spots are the Jardins de Joan Brossa - very close to the Teleferic and easy to reach by foot and bus (look out for number 150).
4) Spend the day at Club Natación Barceloneta
Of course, you need some sort of cooling down on those hot summer days. If you are not a big fan of salty water or if you are simply tired of the tourist crowds on the beach and the unclear, dirty water, check out Club Natación Barceloneta. You can buy a day pass for 12 € and spend the whole day at the pool (indoor and outdoor) and use the gym's facilities.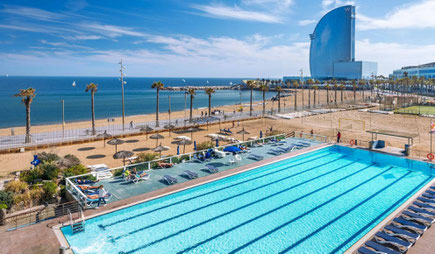 5) Enjoy the ocean breeze Plaça de la Rosa Dels Vents
This is one of the still rather unknown spots of the city and the perfect place for a hot summer day when you want to enjoy the sun but need a strong sea breeze. This square is located behind famous Hotel W. We love to come here, sit as close to the ocean as possible and enjoy the nice and tranquil atmosphere. By the way, do not miss to sneak peak into the lobby of luxurious Hotel W.
6) Get a drink in a historic flair at shady Cafè d'estiu in Gótico
Inside the museum Museu Frederic Màres, Plaça Sant Iu, 5; Opening hours: until 15th of October: Tue. to Sun.: 10am - 10pm
A basic rule to beat the heat is to keep calm and relaxed! And for all those you came to explore the old town of Barcelona, the Gòtico, this place is heaven on earth in between of all the hustle and bustle around the famous sights in the area. Located in the back courtyard of the Museum Frederic Màres, its terrace offers a tranquil and peaceful atmosphere where you can relax a bit and cool down while having a cortado with ice, beer or wine. They also have light snacks.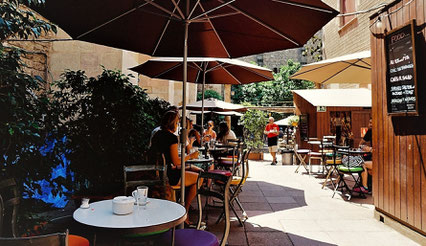 7) Enjoy the beach at Playa de Castelldefels
Last but not least, of course, we love going to one of the beaches closeby! Castelldefels is a village south of Barcelona with a long, sandy beach. Even on hot summer days, there is a nice, cool breeze. You can get their easily by train (R2 from Passeig de Gràcia or Sants) or bus (L94 or L95 from Pl. Catalunya). Important: Get off at the train station Platja de Castelldefels and not Castelldefels (the latter is the actual village but is not at all closeby the beach). There are tons of xiringuitos (beachbars) and all the necessary facilities to spend a fantastic day at the beach! We especially love to come in the late afternoon and stay till sunset. (last train departs usually at 10:36pm)