Barcelona is blessed with a blend Mediterranean climate. Its winters can be cold but are mostly sunny. This is awesome and we love it! From November onwards, the sky in most European countries turns grey. Not in Barcelona - here you have mostly blue skies with the sun smiling at you. Still, we have to admit that it is getting chilly, especially in the shade and after sunset. So, what are the best plans for those cold but sunny winter days in Barcelona?
Here is our TOP 7.
1) Watch a winter's sunrise at Barcelona's beach
In winter the sun in Barcelona rises between 7:30am and 8:30am - so even the not so early birds can take advantage. Our tip: Head to the beach, watch the sunrise on the horizon and enjoy the calmness. Afterwards, have a coffee in one of Barcelona's beach bars with seaview (for example Buenas Migas). There is almost no better start to the day!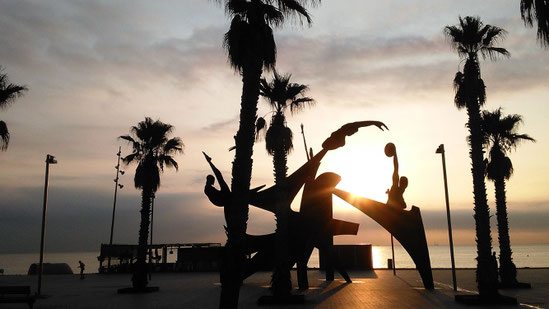 2) Sunny lunch time - try one of Barcelona's best seafood restaurants!
Wintertime is perfect to have lunch on one of the restaurants terraces! In summer it is often too hot to sit in the sun while having lunch, but during the winter months there is nothing better than having a delicious paella (served in the big pan, so it keeps the rice warm) in Barcelona on an early afternoon. Try our recommendations of the neighborhood Barceloneta: La Mar Salada and Kaiku.
3) Wintertime is xurros time! Discover the most romantic street in Barcelona's old town Gótico
You should not miss passing by Barcelona's most romantic passage Carrer de Petritxol: Enter in one of its old cafés called granjas and have a thick chocolate with xurros. Many Catalan families pass by the granjas around 5pm when school is over. Our favorite place for xurros con xocolate is Granja Dulcinea. You might have to queue - but not for long and it is worth it!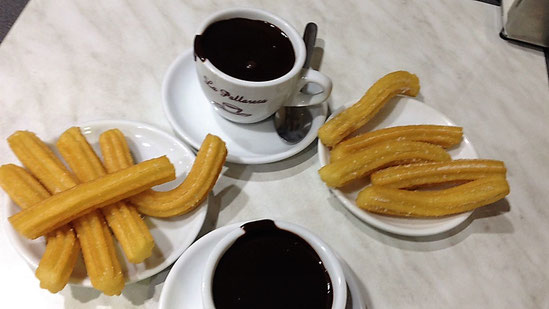 4) Hidden spot: Plaça Coromines in Barcelona's trendy neighborhood Raval!
While exploring the neighborhood Raval, do not miss the hidden square Plaça Coromines. It is a big square where the sun is shining almost all day long. It is protected from the wind and the ideal spot to take a break and soak in some of Barcelona's sunshine.
5) A fantastic walking tour and great views over the port of Barcelona
The longest walking tour we recommend in our travel guide Barcelona by locals is in the Poble Sec neighborhood and goes up the Montjuïc mountain. We recommend to do this on a sunny winter day because it is quite steep on some parts and in winter it should not be too exhausting. Over favorite place for a stop on the way: La Caseta del Migdia! They open at noon and if you are here early you can even pick the best spot - in the sun and with the best view over the port of Barcelona!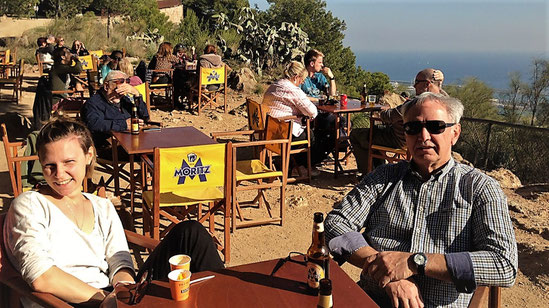 6) Why not visit one of Barcelona's museums?
Barcelona has great museums. Our favorite ones are the modern art museum in Raval called MACBA and Maritime Museum of Barcelona. The cultural center CCCB has also some interesting exhibitions from time to time - check out their calendar. Our tip: Visit the museum after 4pm when the sun is about to go down. By the way, if you happen to be in town on the first sunday of the month, take advantage of the free entries to all museums in Barcelona!
7) Enjoy a delicious brunch in one of Barcelona's hot spot café bars!
Whereas during the summer you want to take advantage and leave as early as possible your house or hotel to enjoy the sun, in winter there is no need for any rush! Take your time and enjoy a wonderful brunch in one of the many fantastic brunch places in Barcelona. Our favorite cafés for brunch are Ugot (they have by far the best selection of incredible cakes such as Caramelized Fig Cheese Cake) and Granja Petitbo.