Skybar at Grand Hotel Central
**Gòtico** This is one of the first rooftop bars we discovered in Barcelona and we still think it is among the ones with the nicest atmosphere. They have a small infinity pool upstairs to cool yourself down by having a nice cocktail or glass of wine. Plus: you have a great view on the beautiful Gothic church Santa Maria del Mar. This is the perfect stop for you during your trip to Barcelona if you want something special.
Contact: Via Laietana, 30; Tel.: +34 932 95 79 00; Metro: Jaume I; Website
RoofTop at Yurbban Trafalgar
**Born** The terrace of the Yurbban Trafalgar is related to the style and image of the hotel: young, fresh, hip and with cool DJs or live bands playing on the weekends. It is right in the middle of the old town of Barcelona (in the neighborhood Born) and close to Plaza Catalunya. With the panoramic 360 degree view you get to see the whole beauty of wonderful Barcelona. To refresh yourself they have a small pool!
Contact: Carrer de Trafalgar, 30; Tel.: +34 932 68 07 27; Metro: Urquinaona; Website
The Clock Terrace Hotel - Catalonia Barcelona Plaza
**Plaça Espanya** From this huge terrace you have spectacular views over Plaça Espanya, the shopping mall 'Las Arenas' and especially the Magic Fountains of Barcelona as well as the museum MNAC. Apart from the decoration, we really like the atmosphere here as it is very spacious, so you do not feel like disturbing the hotel guests. Swimming is not allowed though! We especially recommend it for pre-dinner drinks while the magic fountains (a must-do during your Barcelona trip) show takes place right in front of you Simply wonderful!
Contact: Plaça d'Espanya 6 (8th floor of Hotel Catalonia Barcelona Plaza); Tel.:+34 934 26 26 00; Opening hours: From April until October.: every day, 10 am - 0:00; Metro: Plaça Espanya; Website
Museu d'Història de Catalunya: La Terrassa de les Indianes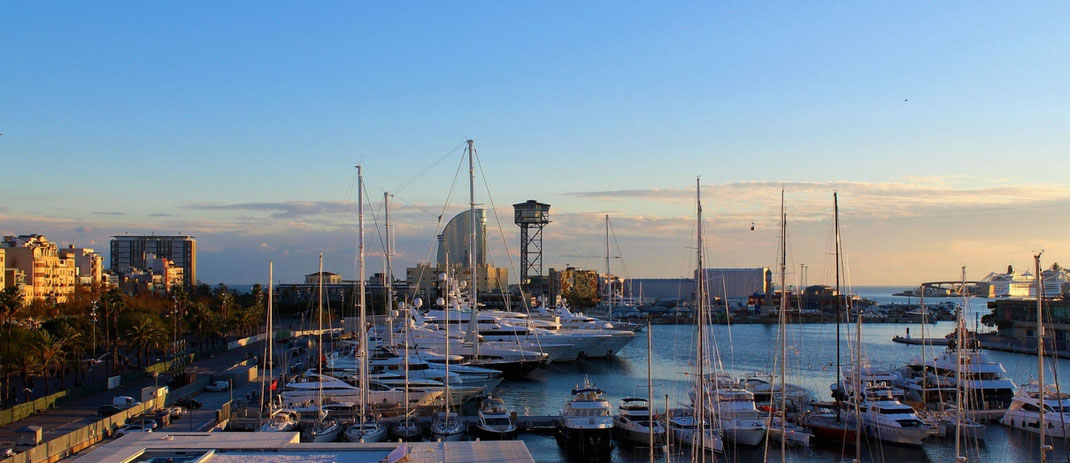 **Barceloneta** We have discovered this rooftop terrace a long time ago and we keep going and bringing people up here. Situated on top of the Museum of Catalan History in the beautiful, historical building of Palau de Mar (the only part left of the former warehouse of the harbor), it is the perfect spot to watch the sunset with views over the old port of Barcelona. Enjoy a drink or coffee on the nicely decorated terrace. On some days, they even have live music. Due to its central location between three barrios, it is an ideal starting point to have a drink before dinner in the old town of Barcelona (especially Gòtico, Born or Barceloneta).
Contact: Plaça de Pau Vila, 3; Tel.: +34902 520 522; Opening hours: Sun. to Thu.: 10am - 2am, Fri. & Sat.: 10am - 3am; Metro: Barceloneta; Website
El Terrat del Hotel DO Plaça Reial
**Gòtico**Set in the unique location of the luxurious boutique Hotel DO Plaça Reial you can enjoy amazing views over the romantic square of Plaza Reial. They have a small pool (although we never had a swim here) and a very good restaurant - if you are up for a fancy dinner in a unique setting, this is your place. For the rest: enjoy the views over a nice glass of wine.
Contact: Plaça Reial 1; Tel.: +34 934 813 666; Opening hours: from June to mid October: 7pm - 1am; Metro: Liceu; Website
Alaire at Hotel Condes
**Eixample** Located right at the bustling boulevard Passeig de Gràcia and in front of one of the masterpieces of Antoní Gaudí, 'La Pedrera', is one of the more animated terraces as they have often live music (bossa nova, jazz, bolero) or DJ sessions. Check out their agenda on Facebook or call before as they do also host private events.
Contact: Passeig de Gràcia, 73; Tel.: +34 934 45 00 00; Opening hours: every day: noon - 2am;  Metro: Diagonal; Website
Hotel 54 Barceloneta
**Barceloneta** We only recently discovered this hidden gem on busy Passeig Joan de Borbó. As they do not (yet) promote proactively their roof top terrace here, it is usually not crowded and you have spectacular views over the old port of Barcelona and the boulevard. It is a rather small terrace without pool but nicely decorated and comfortable lounge chairs. Considering the location the prices are very reasonable (3 Euro for a beer).
Contact: Passeig Joan de Borbó, 54; Tel.: (+34) 932 250 054; Opening hours: Fri. to Sun.: 4pm - 10pm.; Metro: Barceloneta; Website