Barcelona and its districts - An Overview
For our travel guide 'Barcelona by Locals' we have compiled an overview of the most important neighborhoods of Barcelona:
In the following article we provide you with a short but informative overview of the most important neighborhoods of Barcelona, so you know what to expect in each area. You will also find one or the other personal insider tip from our side :)
Here we go!
THE OLD TOWN OF BARCELONA - THE 'CENTRO HISTORICO'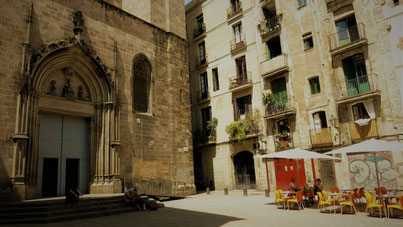 The heart of Barcelona, its beautiful old town, consists of the four districts El Born, Gótico, Raval and Barceloneta.
Most of you have probably heard of Barceloneta, one of two neighborhoods with access to the Mediterranean Sea. Barceloneta is the city's fishing district and was greatly expanded for the Olympic Games of 1992. We love Barceloneta for its great vermouth bars, its paella restaurants and its sunrises! Our insider tip for a vermouth is the Bodega Fermín!
El Born and Gótico are the center of Barcelona's old town. These districts are characterized by small streets, numerous sights, museums and hidden squares. Especially worth seeing are Basílica de Santa Maria del Mar and Plaça de Sant Jaume with the buildings of the regional and city council. In summer, the streets of El Born and Gótico can get quite crowded. However, relax and just let yourself drift. You can be sure that at the next corner the next amazing building, nice small local shop or a picturesque place is waiting for you. The great thing about these old town districts: you will find a lot of shade here!
Raval is known as the rather wicked part of Barcelona, but has its very own charm. Here, Catalans live together with immigrants and, more recently, young people and 'hipsters'. We love Raval for Plaça dels Angels and the art museum MACBA.
EIXAMPLE - CATALAN ARCHITECTURE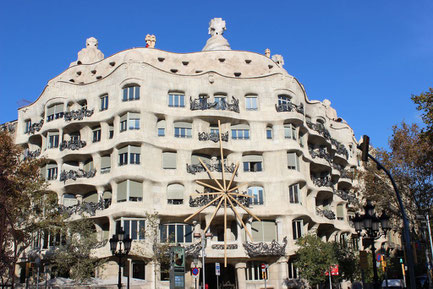 Eixample is one of Barcelona's largest neighborhoods, spread over many blocks.
What's special about it is its checkerboard-like road structure. You won't get lost for sure! Eixample is characterized by its breathtaking architecture, which mainly comes from Antoni Gaudí. The nicest and most famous buildings include Casa Batlló and Casa Mila, both located on the main promenade of Eixample, Passeig de Gràcia. In our opinion, especially Casa Batlló is worth a visit! In the summer, Casa Mila organizes concerts on its roof terrace! Definitely a highlight, so check it out!
The district of Eixample also includes the area around the Sagrada Família, Gaudí's masterpiece. Not far away is Hospital de la Santa Creu i Sant Pau and the former bullring Monumental - both definitely worth a visit.
Another, very small part of the Eixample is Sant Antoni, the new hipster district of Barcelona. Its centerpiece is the Carrer de Parlament, where numerous bars and restaurants can be found. You should not miss the Mercat de Sant Antoni. This was completely renovated only a few years ago!
GRACIA - BARCELONAS BOHEMIAN DISTRICT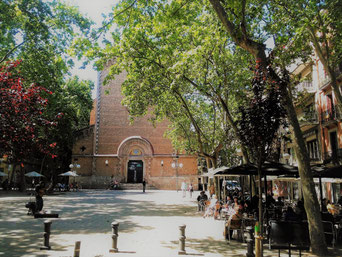 Catalans who live in Gràcia have been doing so most of their lives. And indeed many of our friends live here!
We love this part of Barcelona because of its many squares and the many great bars. The favorite place of our friend and local expert Georgina of our guide is Plaça de la Virreina.
And another tip: Stroll through the Carrer de Verdi and the Carrer de Torrijos and enjoy the charming atmosphere of the streets!
POBLE NOU - INDUSTRY MEETS STARTUP CULTURE
Besides Barceloneta, Poble Nou is the second district with beach access to the Mediterranean Sea in Barcelona. Poble Nou was once the industrial district of the Catalan city and so you will find many, mostly vacant factory buildings in this area.
In recent years, more and more the startup scene has settled here and thereby upgraded the Poble Nou. Definitely stroll along Rambla de Poble Nou and get a horchata, a typical Catalan soft drink (almond milk) from El Tío Che.
POBLE SEC - BETWEEN CITY AND MOUNTAIN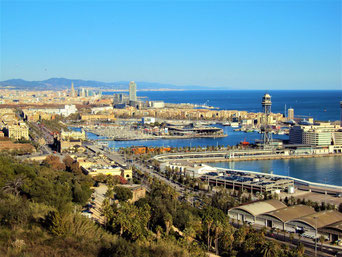 This neighborhood connects the center of Barcelona with the city's local mountain, the Montjuic. From here you have a fantastic view of the whole city. You will also find a lot of parks in Poble Sec. It's best to take a walk from Plaça de Espanya over the Olympic Stadium up to the castle of Montjuic. We took the route already and you can find it in our travel guide.
If you want more valuable insider tips from us, check out our other blog articles or get our Barcelona travel guide.
On 200 pages we summarize the best cafés, bars and cultural highlights of Barcelona, introduce you to local experts in each district who will reveal their secrets, and we guide you through the different barrios of Barcelona with our self-designed maps and tours away from the tourist crowds.
As trusted blog readers we offer you a 10% discount! Simply enter the code "blog2019" on the order page.
---