Cool down needed - The 5 best beaches in & around Barcelona
Summer is starting in Germany … and so are temperatures rising in Barcelona. And where is it better to stay than by the sea ...
The Catalan metropolis is the ideal place because it is surrounded by numerous beaches. However, the problem is that many beaches are extremely crowded. Nevertheless, there are some insider tips about our favorite and less crowded beaches that we want to share with you!
We have listed our 5 favorite beaches below. All are easily accessible by metro, bus or train.
Before we start, here are some basic tips:
The early bird catches the worm! Getting up early is definitely worth it!
Bring a parasol! Most of the beaches have almost no shady trees!
Avoid the midday sun (between noon and 3pm)
Use LOTS OF sunscreen!
TOP 1: PLAYA CASTELLDEFELLS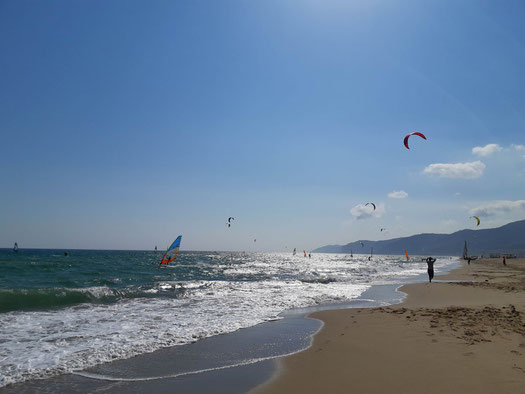 Getting there: By train R2 or bus L94 / L95; Duration: approx. 30 minutes; Cost: € 2.55 (one way)
The beach of Castelldefells is endless and extremely wide. Although many locals head to this beach, especially on the weekend, people distribute well and it does not feel crowded at all. Every few hundred meters there are beach bars, called Xiringuitos, which are perfect for a cold beer or a coffee. The sea is mostly calm and access to the water is really easy as it is very shallow. Hence, perfect for all air mattress lovers!
TOP 2: PLAYA DE BADALONA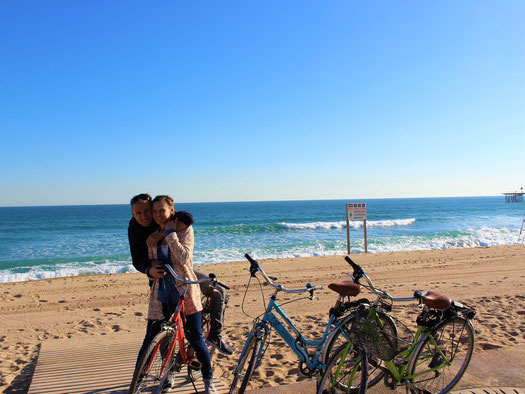 How to get there: Take the metro L2 to Badalona Pompeu Fabra (final stop), from there it is a 10-minute walk; Duration: approx. 30 minutes; Cost: one ride on the T10 ticket
Sunbathing at the beach of Badalona can be perfectly combined with a nice walk through the small town of Badalona. It is very easy to reach by metro. The beach is divided into several, elongated bays. The further you go in one direction or the other, the emptier it gets. In the summer there are quite a few people, but nothing compared to the beaches of Barcelona. The sea is more lively here!
Our favorite spot: The stretch of beach right in front of L'Estupendu restaurant (a great place for a snack, lunch or refreshment). A walk to the viewing platform Pont del Petroli is also worthwhile!
TOP 3: PLAYA DE MATARÓ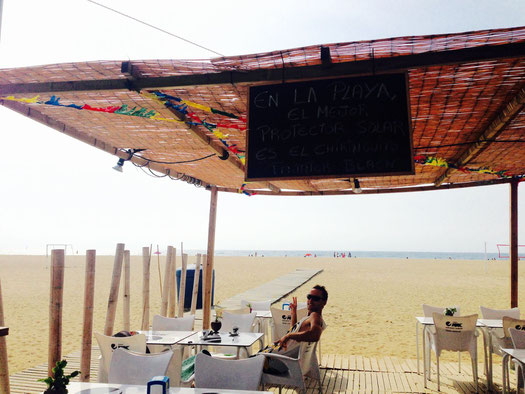 Getting there: By train (Renfe Rodalies) R1 to Mataró; Duration: approx. 50 minutes; Cost: 4.20€ (one way)
Getting Mataró takes quite long, however, it is definitely worth the ride! The beach is wide and long and the sea is very lively. There are a couple of beach bars around. If you fancy a really good paella, you will love the restaurant Lasal del Varador. Plus: The town of Mataró is definitely worth exploring! (Note: In our guide we have more recommendations about Mataró, including a guided walking tour).
TOP 4: PLAYA DE GARRAF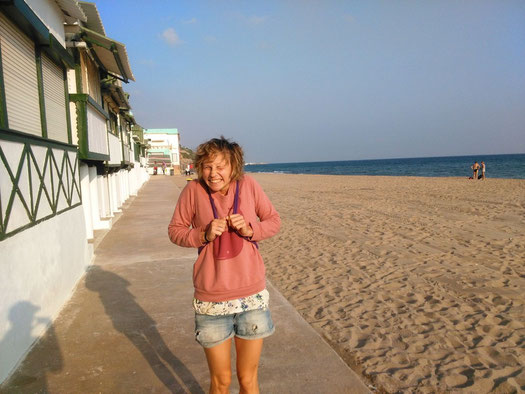 Getting there: By train (Renfe Rodalies) R2 to Mataró; Duration: approx. 35 minutes; Cost: 3,50 € (one way)
In contrast to the many long sandy beaches around Barcelona, the beach of Garraf is a smaller bay. With many small beach houses and the Garraf mountains in the background, it is very idyllic here - but only if there are little people. Hence, come early! 
TOP 5: PLAYA DE BOGATELL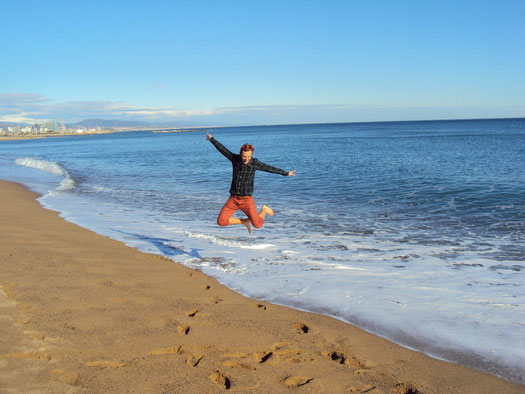 How to get there: Take the metro L4 to Citutat Vila Olímpica or Bogatell, it is a 10-minute walk from there; Duration: 20 minutes; Cost: one ride on the T10 ticket
For those who prefer to stay in town, this is our favorite beach in Barcelona. In summer Playa de Bogatell can also get extremely crowded, however, the atmosphere is a bit more relaxed than in and around the Barceloneta. The beach is much wider here, there are several Xiringuitos within walking distance and you are able to watch beach volleyball players :)
We hope this is useful for you!
If you would like more of our Barcelona recommendations, then get our TOP 7 insider tips (for free) or our full guide with numerous recommendations for culture and gastronomy for the entire city of Barcelona. Have fun!!
---