Eating tapas in Barcelona - Recommendations by locals
We would like to follow up on our blog post about how to eat Spanish tapas right. Today we tell you about our favorite tapas restaurants in Barcelona.  
The number of tapas restaurants in Barcelona is endless, especially in the old town. It is so hard to decide where to go and to pick the really good. Especially when you are hungry this is a challenge.
Luckily you have Barcelona by locals :)
We have selected 7 tapas restaurants from different neighborhoods of Barcelona and in different price ranges for you. These are our personal recommendations of the best tapas restaurants in Barcelona as well recommendations from our local community. 
Vamos!!!
You find number 1 and number 2 in our favorite district called Sant Antoni
Tapas Restaurant Recommendation No. 1: Bar Calders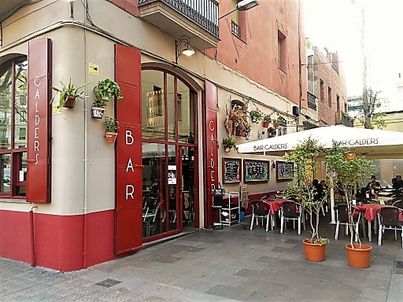 Bar Calders is THE hotspot in Sant Antoni. Located on the lively Carrer del Parlament, Calders welcomes its guests in a relaxed atmosphere with a beautiful terrace and really nice waiters. The price-quality ratio including the quality of the service are unbeatable.  
Our favorite tapas: the salad with goat cheese, their pan con tomato and the provolone. As an apetizer we love to have a homemade vermouth!

Make an exception and come early - before 7pm! Afterwards Bar Calders fills quickly.

Info: Bar Calders does not accept reservations
Price level: About 15 Euros per Person incl. drinks
Where? Carrer del Parlament 25
Tapas Restaurant Recommendation No. 2: Bar Ramon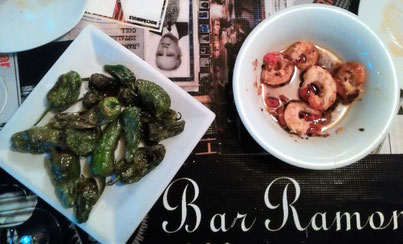 The following words describe best Bar Ramon:
local, rustic, simple.

Bar Ramon is not exactly impressive from the outside, however, inside it is really cosy. You find almost only locals here and the service is great. The owners, an elderly Catalan couple, are running their restaurant full of love.

Our favorite dish: Pulpo a la gallega (octopus), Albóndigas (meatballs) and the stuffed aubergine.

Make a reservation beforehand to be on the safe side. This way you avoid to wait.
Price level: About 15 to 20 € per Person incl. drinks
Where? Carrer del Comte Borrell 81
Number 3 and 4 of our favorite tapas restaurants in Barcelona are located in the old town of Barcelona.
Tapas Restaurant Recommendation  No. 3: Bar del Pla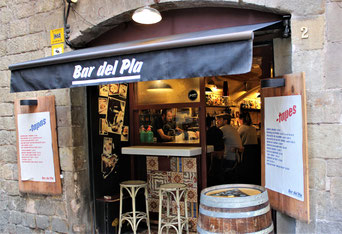 Bar del Pla is exactly as you would expect a typical Spanish tapas restaurant - it is nice and cosy, people hustling around and you can still have your food in a relaxed atmosphere.

Bar del Pla is a recommendation from our local experts and local friends who live in Born: Magda and Fer. Here you get really tasty tapas of really good quality and the prices are totally justified.

Our favorite dishes: The raw marinated champignon and strawberry salad with wasabi and their version of patatas bravas.

Making a reservation is not essential, especially if you are just two people and if you are willing to sit at the bar. However, if you come in a larger group, better make a reservation.
Price level: About 20 € per Person incl. drinks. Maybe a bit more. Depending on what and on how much you will have.
Where? Carrer de Montcada 2
Tapas Restaurant Recommendation No. 4: Tapeo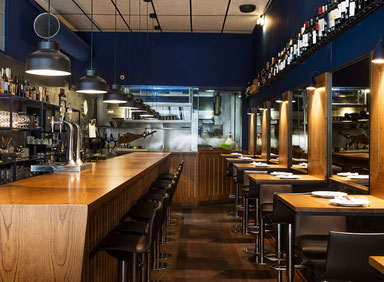 The tapeo is small, casual-chic, lively and slightly more expensive. A chic tapas bar so to speak.

Tapeo is a very personal recommendation of a good friend of ours who has lived in Born for a long time. The dishes of Tapeo are quite unusual, extremely delicious and prepared with full of attention to details.

Our favorite dish: The lamb skewer with mint jogurt and Fideu with squid.

If you are looking for something special, this is the place for you. We advise you to make a reservation as the place is quite small.

As already mentioned, the price level is a bit higher here: Approx. 30 to 35 Eur per person. But it's worth it!
Where? Carrer de Montcada 29
You find number 5 and 6 of our favorite tapas place in the district of Poble Nou.
Tapas Restaurant Recommendation No. 5: El 58
El 58 is our favorite tapas restaurant in Poble Nou and is located on bustling Rambla de Poblenou. The restaurant belongs to a Catalan and a French who lived in the area for 16 years and knew exactly what was missing.

El 58 is a restaurant with a modern but also traditional atmosphere and good food at great prices.

There are no reservations possible, which is why we recommend to arrive before 20.30h.
Where? Rambla del Poblenou 58
Tapas Restaurant Recommendation No. 6: Can Recasens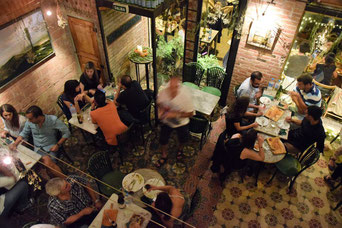 The interior of the Can Recasens is simply amazing: the restaurant reminds of a labyrinth, it is divided into many different small rooms, where people sit in different corners.

There are plants everywhere, wine racks in several corners and the counter at the entrance is beautifully decorated with vegetables, fruits and other Spanish delicacies.

Our favorite dishes here: the cheese or sausage platter, their pan con tomato, as well as salads and provolone

Can Recasens also owns a small deli shop nearby - perfect if you need a great gift!

Important: Reservation is required. Can Recasens is special, because you can only reserve at two times: either at 21h (you have to leave around 22.30h/23h) or at 23h. (Wondering who's going to have dinner at 11pm? Watch out for the queue at Can Recasens just before 11pm ...)
Price level: about. 20-25 € per person. 
Where? Rambla del Poblenou 102
Our final tapas place recommendation is located in Barceloneta.
Tapas Restaurant Recommendation No. 7: Bitacora
From the outside and inside Bitacora looks like nothing special, but what is really good here are the seafood tapas!

Bitacora is divded in two rooms: a main room and a small courtyard.
In the main room it can get very loud. Anyone who has been to Spain knows that people in Spain often talk a lot and loud. If you like it a little quieter, go through the main room and into the small courtyard. Here it is a little more relaxed.

Unfortunately, Bitacora has no terrace and for this reason less tourists come here. 

Our favorite dishes: We love everything from the menu, however, we mainly order the seafood tapas like octopus, sardines or croquettes. These are all awesome.

Reservation is not necessary, but recommended.
Price level:  about. 15-20 € per person.
Where? Carrer de Balboa 1
---
As you can see, there are a lot of really good tapas restaurants in Barcelona. We hope our selection is useful for you and you find your favorite spot! 
In our travel guide Barcelona by locals we have plenty more recommendations for you - not only about restaurants but also for sightseeing, bars, cafes, secret places. 
As you are  reading our blog, we offer you a 10% discount. Use "blog2019" for your next purchase. 
You might also like this blog article:
---