Time for a vermouth - The 5 best vermouth bars in Barcelona
Fem un vermut. - This is Catalan and means "Let's have a vermouth!" 
But what is vermouth actually?
In short: Vermouth is a wine which is refined with spices and herbs and has least 15% of alcohol. It is a sort of liqueur wine. It is served in a 0.1 liter glass - mostly with ice cubes and olives - and has made its big comeback in Spain and Catalonia in recent years. Some locals love eating deep-fried sardines or pickled anchovy fillets with it.
Vermuteo is a Spanish tradition and probably best compared to the Bavarian Frühshoppen (sorry, there isn't a good translation in English). If you walk attentively through the city, you will notice, how large groups of people gather in front of the bars at the weekend in the late morning (about 12 o'clock) - all with a glass of Vermouth in the hand! The most popular districts for Vermuteo are the Barceloneta and Poble Sec.
Our tip: Choose a bar for your vermuteo which offers vermouth from own production or from a local producer!
Here are our recommendations for the best vermouth bars in Barcelona: 
TOP 1: CELLER CAL MARINO (Poble Sec)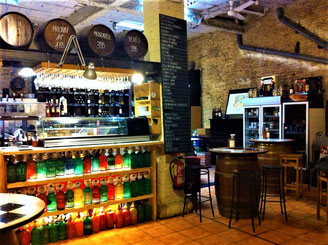 Carrer de Margarit, 54 (Poble Sec)
The owner Eduardo has converted an old motorcycle workshop into a bodega and serves excellent vermouth at incredibly low prices. You sit in a nicely and laid-back atmosphere at old wine barrels. However, there is no terrace. Definitely try his croquettes!
TOP 2: BAR CALDERS (Sant Antoni)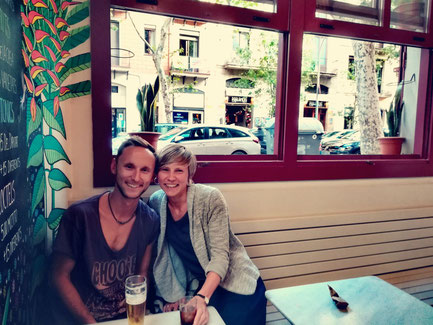 Carrer del Parlament, 25 (Sant Antoni) 
Bar Calders is by far the most popular bar in the trendy district of Sant Antoni. The bar has a nice, shady terrace making it the perfect spot for Vermuteo in summer. Plus, their vermouth is excellent!
TOP 3: BAR LA PLATA, Gótico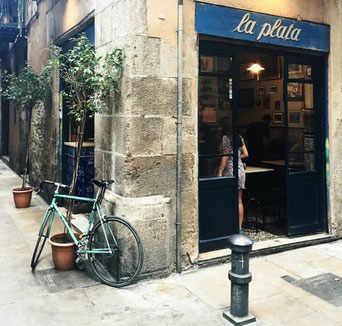 Carrer de la Mercè, 28 (Gótico)
The favorite bar of actor Daniel Brühl and one of the few bars where vermouth is served without ice cubes! The owners say this would dilute the taste. Here you should definitely try one of their specialties of the house. Our favorites: the deep-fried little sardines and the tomato salad! The bar is tiny and decorated with beautiful tiles.
A must on the tour of the old town part Gótico.
TOP 4: BAR PIETRO, Grácia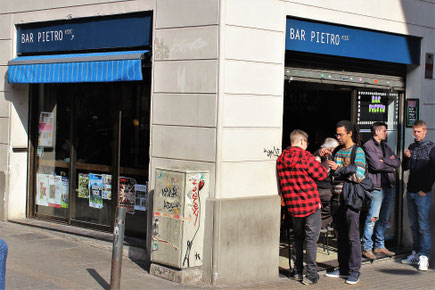 Travessera de Gràcia, 197 (Gràcia)
The hotspot among the locals who live in the bohemian district of Gràcia! Right on the street corner at the market, the bar is a very popular meeting point for young and old. Join them either outside at the window or right in the bar and enjoy their homemade vermouth!
TOP 5: BODEGA FERMÍN (Barceloneta)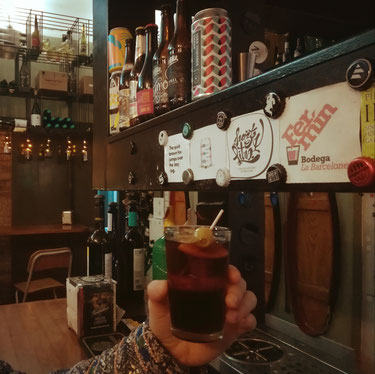 Carrer de Sant Carles, 18 (Barceloneta)
If you ask us about the best vermouth bar with absolutely local atmosphere, then our answer is: Bodega Fermín!
In no other district of Barcelona Vermuteo is celebrated as in the fishing district of Barceloneta and our local expert Pepitu is a regular guest here. They also have a small terrace and the location right on the market square of the neighborhood is unbeatable. 
Salut!
If you want more valuable insider tips from us, check out our other blog articles or get our guide.
On 200 pages we summarize the best cafés, bars and cultural highlights, introduce you to local experts in each district who will reveal their secrets, and we guide you through the different barrios of Barcelona with our self-designed maps and tours away from the tourist crowds.
As trusted blog readers we offer you a 10% discount! Simply enter the code "blog2019" on the order page.
---