How to eat tapas right
As you might guess from the title, this blog article is about the Spanish tradition of eating tapas.
When you visit beautiful Barcelona and want to experience the city like a local, having tapas for lunch or dinner is a must!
For many, eating tapas - i.e. ordering several, small dishes and sharing these - is something very unusual. And that's exactly why we want to give you a few helpful tips today, so that you know everything when you have your tapas and so that you can really enjoy the food!
Let's start with our six helpful tips on how to eat tapas right! 
NO. 1: WHAT ARE TAPAS?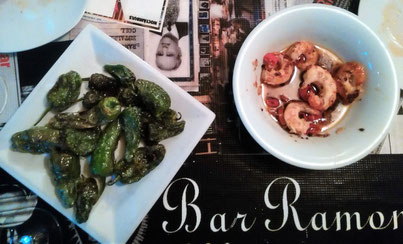 In order to have tapas, you shall know what tapas exactly are ...
Tapas comes from the Spanish word 'tapa', which means 'lid', and refers to a small dish. 
So when we talk about tapas, we often speak of several dishes, which is why we use the plural, the word 'tapas', and not tapa. 
NO. 2: HOW MANY TAPAS DISHES SHALL I ORDER?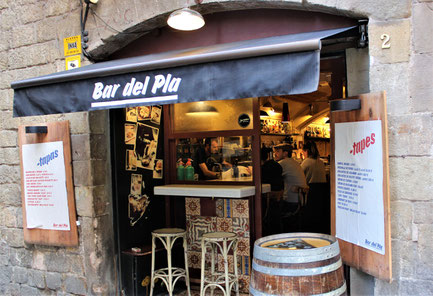 Of course, it all depends on how many people come together for the meal, whether the particular restaurant serves large portions or rather small portions and what kind of dishes you order: vegetables, fish / meat, or carbohydrates, such as potatoes.
Nonetheless, we have our 'rule': We usually order 2 to 3 tapas per person.
If we are a group of 4 or more, we order certain dishes (the ones we really love!) twice. This way everybody gets enough from the dish and the selection as well as the order process is a lot easier.
NO. 3: HOW TO READ A TAPAS MENU AND HOW TO ORDER ...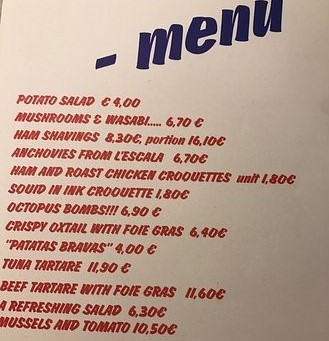 When ordering, make sure that you tell the server which of the tapas you want to eat at the beginning (as an appetizer) and which ones for the main course.
At first we usually order 1 to 2 cold tapas (such as olives, pan con tomato (bread with grated tomato), or salad) and then 2 to 3 warm tapas as main dish.
And of course we cannot live without dessert: We usually share one dessert. 'Crema Catalana' is a very typical and local dessert - although many tapas restaurants offer very special and very delicious desserts.
The best thing is to ask the server for a recommendation and also which of the desserts are homemade. Homemade in Spanish means 'casero'.
NO. 4: WHAT TO DO IF YOU ARE STILL HUNGRY AT THE END OF THE MEAL?
Of course, this can happen. The good thing about tapas food is that you can always reorder and locals do this, too! The restaurants are prepared and dishes are usually served quickly.
However, you can trust us that 2 to 3 tapas per person are really enough!
In case you still want to have the feeling to have your own place ... you take a bit of each tapas on your plate and put together your very own dish. This way you know how much you ate in the end and you make sure that you really had enough.
NO.5: IF YOU STILL DON'T KNOW WHAT TO ORDER ...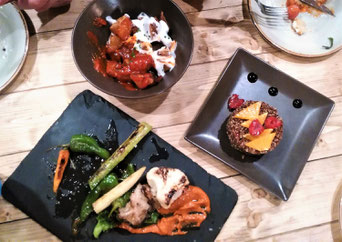 … we have a list of tapas that you can find in almost every tapas restaurants that we really like:
Patatas bravas, so-called 'wild potatoes'
Pan con tomato (bread with grated tomato)
Tortilla
Croquetas (croquettes)
Meat / fish dish
Vegetables, e.g. fried aubergine with honey
A seasonal a salad (tomato salad, salad with goat's cheese)

What we also like to do is to ask the waiter which dishes he / she can recommend. If your Spanish is not good enough, you can also ask in English! No problem! The service staff is certainly looking forward to help you!

In any case, ask the waiter if, what you ordered, is sufficient. We made the experience that the waiters rarely want to sell too much, but rather say, that's enough and you can still order more afterwards.
NO.6: HOW TO PAY
The central point of eating tapas and the great thing about it is sharing. Hence, you do not only share the food, but also the bill.
That means: Everyone pays the same amount in the end. This might sound unfair to one or the other at first, but this can also be really relaxing - unless you have to turn around each and every euro.

Under no circumstances, ask the waiter to divide the bill so that everybody can pay extra. This is very typical in many countries, but it is not in Spain!
Why? Not because the local service staff or restaurants wants to annoy you, but simply because they do not understand the concept of 'Everyone pays for themselves and will be charged extra'.
So, what happens when you are done with the meal? ... You are done with the meal and ask for the bill (in Spanish: 'La cuenta por favor'). You will receive the invoice for the total price. You simply divide the amount by the total number of people. You should also calculate about 10% tip on top. Everyone pays the same amount! It does not matter if someone had 2 or 3 beers or if someone else had an espresso. And then everyone puts in their part of the money. And done!
LAST BUT NOT LEAST ...
---