24 hours in Barcelona
Direct access to the ocean, wide sandy beaches, cultural masterpieces wherever you go and culinary delights everywhere - no other city in Europe offers such a perfect combination of beach, good food and drinks and culture for holidays as Barcelona. And that with an average of 7 hours of sunshine per day! The perfect city, right?
In the following article we would like to show you what a perfect day in Barcelona looks like to us!
Start the day on the beach: In the fishing district Barceloneta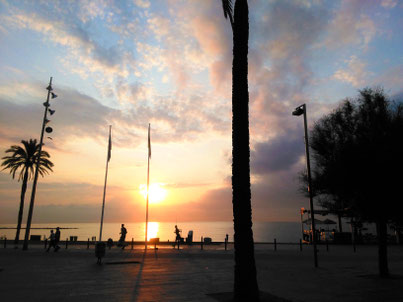 We like to start the day at sunrise on the beach. The sun rises over the horizon of the Mediterranean sea just in front of Barcelona and rewards all early risers with a nice view and warm rays of sunshine. For the first coffee of the day we stop at one of the beach bars.
For breakfast we head to the famous Baluard Bakery, which has delicious muffin creations and also offers different kinds of sandwiches for take away. The bakery is located on the lively square Plaça del Poeta Boscà, right in the center of Barceloneta. While walking there we enjoy the morning air with the smell of fresh fish.
Off to Barcelona's old town and some history in Gótico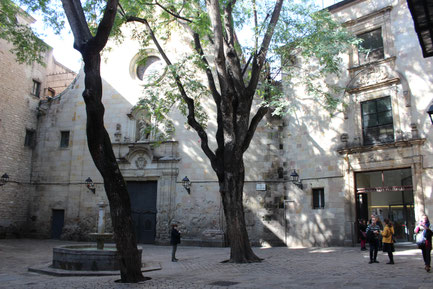 From Barceloneta it is a nice short walk along the harbor to the historic center of Barcelona: the Gótico. Although there is always a lot going on due to the many cultural attractions, you can still find some hidden corners that have retained their original charm.
Among our favorite places are Plaça dels Traginers with its ancient Roman walls and the mystical Plaça de Sant Felip Neri. You can lose yourself easily in the small, winding streets of Gótico and it's fun to let yourself be guided by your intuition.
However, where we always stop is at the bar La Plata. A tiny, bar decorated with ceramic tiles, where young and old meet for a vermut and some small tapas. For a quick lunch we stop at Conesa Entrepans, a famous place among locals for some freshly made sandwiches.
Off to Barcelona's artistic district of Gràcia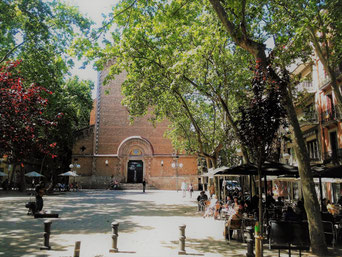 After a few hours in the city center, it's time to get out of the old town and off to the alternative, artist district of Gràcia. It is best to take the metro line L4 from Jaume I to Joanic.
Gràcia has a very different flair - you can feel it immediately! Wide streets with space for strolling around, small houses, few tourists - but more alternative people, artists and families. Gràcia has kept its charm as a formerly independent village, where many 'city dwellers' once had their summer residence. The district owes its vibe mainly to the many charming squares and traffic-free zones.
We enjoy walking along the pedestrian streets of Carrer de Verdi and Carrer de Torrijos, with their cute little shops selling locally-made. We love to join the Graciencs (meaning the locals of Gràcia) at one of the bars on Plaça del Sol or Plaça de la Virreina for a coffee and beer and watch the hustle and bustle of the village.
End the day in Barcelona's hipster zone: Sant Antoni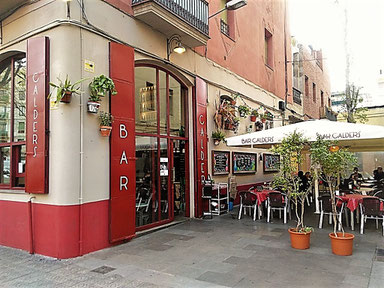 In recent years, Sant Antoni has become the new trendy district. Many residents from other neighborhoods love to come here especially in the evening for a beer or dinner. From Gràcia it is best to take mentro L3 at Fontana and get off at Poble Sec.
This is where the busiest street of Sant Antoni, Carrer del Parlament, starts. Hip barber shops and local fashion label stores line up next to many traditional restaurants and modern tapas bars. Enjoy a walk through the 'hipster mile' and decide on a restaurant for dinner. We usually end up in the tapas Bar Calders. It has a lovely terrace, great food at unbeatable prices.
If you want to get some cocktails after dinner nearby, Raval district is close and a good place to be. Our insider tip here: La Confiteria for cocktails or Pesca Salada for Gin Tonics.
If you want more valuable insider tips from us, check out our other blog articles or get our Barcelona travel guide.
On 200 pages we summarize the best cafés, bars and cultural highlights of Barcelona, introduce you to local experts in each district who will reveal their secrets, and we guide you through the different barrios of Barcelona with our self-designed maps and tours away from the tourist crowds.
As trusted blog readers we offer you a 10% discount! Simply enter the code "blog2019" on the order page.
---